LAHORE, Pakistan, Dec 3 (Reuters) – A mob of factory employees in eastern Pakistan tortured and burned a Sri Lankan manager on Friday over apparent blasphemy in a "horrific" attack that Prime Minister Imran Khan said brought shame on the country. Read Full Article>>>

By Mubasher Bukhari – Reuters
I saw the unguilty feelings of people who were involved in this incident and I was surprised. We have no official story or any sort of clear story about the incident yet. So, I thought to approach with the first impression and I am not going to pre-judgment about the incident. All I wanted to point out is the background of this incident and the reasons which was forced to result in such a brutal act. The main point is, I did not see the guilty feeling or the repentance.

Two people had talked to the media by claiming that they killed this victim. It seems they are not worrying about their act. Here is the video from Twitter.
Video by https://twitter.com/FaakhirRizvi
This man is taking a selfie like he did an amazing firework for New Year celebration.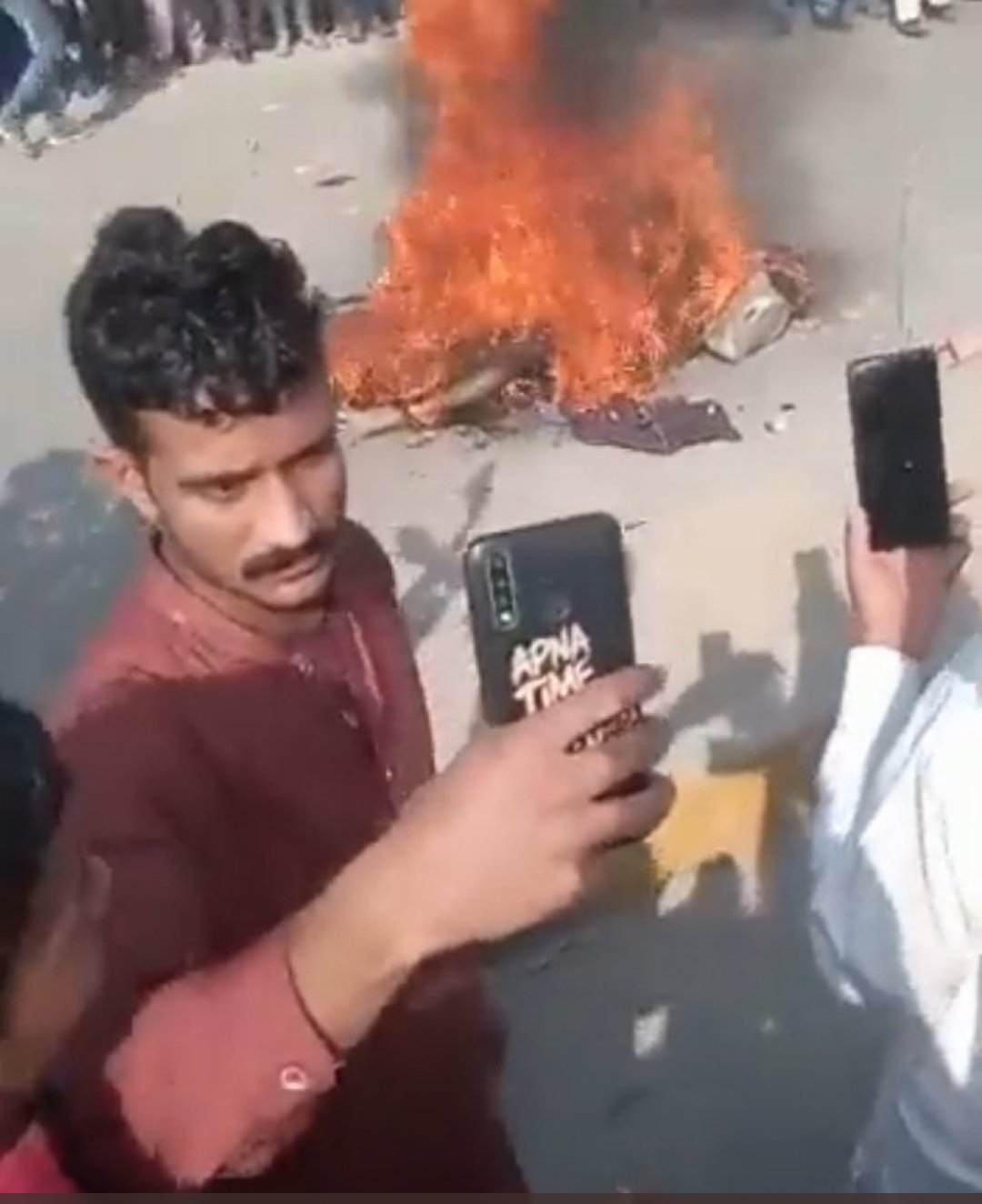 I do not see the sorry feeling or guilty feeling from these people. After killing an innocent man or even a criminal, normal human beings never act like this. As a civilized animal, we know that we have no right to kill another human for any reason.
Somehow, these people could simply explain the reasons behind their actions without any guilty feeling. Instead of releasing hate and phobia, we need to find the reason which made this possible in a human being.
As I showed at the very beginning, this city is located just next to the controversial Indian Provinces of Jammu & Kashmir. It is clear that radical extremism may find in this area. These people may not have a proper education and a mindset of tolerance as much as urban people in Lahore or Islamabad.
I saw the shock and pain of many Pakistani people throughout social media. I am quite sure that they are really worried. Even India was suffering from radical extremism in Jammu & Kashmir areas. And these sorts of actions are affecting the reputation of Pakistan as well.
Pakistan very promising PM Imran Khan has already responded to this matter and I am inviting everyone to reconsider the matter beyond the particular incident. I urge every party to find the reasons behind the radical thinking of these people. I don't think that these people are supposed to act like this.
Finally, let me quote a very famous bible verse that Jesus said as the last words on the cross.
 "Father, forgive them, for they do not know what they are doing"

Jesus Christ on the Cross – Gospel Luke 24:34
If you don't agree with my opinion, feel free to find me on Twitter and respond to my idea. visit my Twitter account: https://twitter.com/anuradhabernard
Read my article about Tolerance of Islam and the Beauty of Arabs: Click here